Newsflash
Dear patients and customers,
due to the corona virus situation our opening hours are until further notice shortened to 11 am - 5 pm on working days.
Please, wear face masks or filters before You enter Alta Opticians.
Thank You for Your kind cooperation and patronage
Team ALTA
Optical Coherence Tomography arrives at Alta
Alta has the privilege of serving the Argentinian Ambassador at Vlastina 2a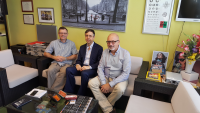 New Paper Style collection from Italy!!
Modern frames made from paper!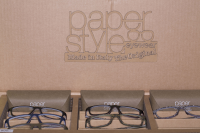 EET
Podle zákona o evidenci tržeb je prodávající povinen vystavit
kupujícímu účtenku. Zároven je povinen zaevidovat přijatou
tržbu u správce daně online, v případě technického výpadku
pak nejpozději do 48 hodin.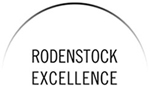 Rodenstock Road - safety, driven by vision!
Improved visual comfort from the glare of oncoming lights
Improved spatial vision
Improved night vision
Improved ability for quick exchange of glance at varying distances.
Martyn Howlett and his wife represent Alta Opticians at the ISP School Welcome Fair 2016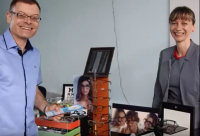 A gift from a happy customer - spot the Alta logo !!!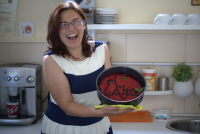 Alta is privileged, once again, to serve the embassies of Prague, as seen here with the Russian Ambassador to the Czech republic.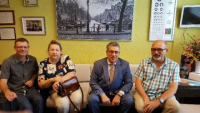 Alta is privileged to serve the US Ambassador to the Czech republic, Andrew Schapiro
Eye examinations available every day Monday - Friday
with our Senior Optometrist Paul Fisher
at our Vlastina 572/2a store.

call us on Tel: 602 477 428
or email us:
martyn@altaoptika.cz
and make your appointment now!! Eye exam from 605kč
NOW at Alta Opticians - the all new Rodenstock DNEye® concept of vision!
Alta Opticians as you have never seen before!
New LUXARY BRANDS for Summer 2014
Click our NEW COLLECTION tab for all the latest styles!
Official approval for Alta Opticians from the US Embassy in Prague
ALTA in partnership with RODENSTOCK
brings you ImpressionIST
the ultimate in Multifocal lens measurement!!
See our 'Personal Consultation' section for more details!!
Our store at DELTA, Dedina has moved to a new location at KULATÁK, Dejvicka

Vítězné nám 9
Praha 6, 160 00
(3rd floor beside the clinic of Dr. Gollové)

Tel: +420 224 315 281
Opening hours:
Mon-Thurs: 8-18
Friday: 8-14


New store opened - Na Pankráci 57,
Praha 4 !!!
Tel. 244 467 552

Conveniently located at Oční Ordinace
MUDr Katerina Podzimková
Please see our 'contact us' section for details of
opening hours.